Power of Touch - Midwife Gold Coast
Anne Cifuentes provides Prenatal Classes, Pregnancy and Postnatal Massage, Infant Massage, Swedish Massage, Hot Stone Massage, Lymphatic Drainage Massage, Remedial Massage, Caesarean Classes, Breastfeeding Classes and Active Birth Classes to expecting parents and residents on the Gold Coast.
At Power of Touch the aim is to provide you with a personalised service, tailored to meet your needs. As an experienced Midwife, Childbirth educator and Massage Therapist on the Gold Coast, my unique blend of skills enables me to offer a very comprehensive and complementary range of services. These include a variety of Prenatal Classes and Massage Therapy, specialising in womens health and pregnancy.
I look forward to seeing you.
Anne
CHECK OUT OUR MOTHER'S DAY SPECIAL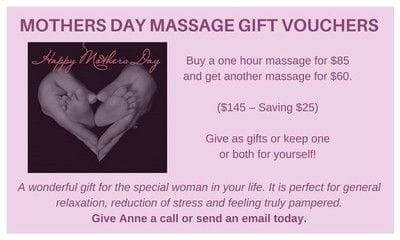 ** Come and visit my brand new purpose-built clinic at Helensvale. This beautifully appointed clinic provides my clients with a comfortable, relaxed and inviting environment. I'm sure you will love it as much as I do.
Business hours for Massage
Tuesday to Friday: 9.30am - 6.00pm
Saturdays: 1-2 / month by appointment
| | | |
| --- | --- | --- |
| | | |
| The adjoining bathroom is stunning. A lovely area to prepare for your massage and get dressed again afterwards. | Warm, inviting and relaxing. Perfect for your next massage. | By moving the massage table, the room easily transforms from a massage room, to a comfortable open space for my prenatal classes. |
| | | |
| You will walk across a bridge, shaded by large trees and enter a beautiful reception area. You will never wait long, if at all, before you are enjoying your massage. | Beautifully appointed and air-conditioned, clients feel very comfortable in this purpose-built clinic. | Why not come and visit this lovely clinic, for your next or perhaps your first massage. |
| | | | |
| --- | --- | --- | --- |
| | | | |
| Discover the amazing benefits of massage therapy and why many see it as an essential part of health and well being. Be it a relaxing Swedish or therapeutic massage targeting those tense or tired muscles, massage is associated with general relaxation, wellbeing and a significant reduction in stress. | You can feel relaxed and reassured by my experience and background. Soothing, nurturing massage provided by someone experienced in dealing with pregnant women offers a most enjoyable and effective way of reducing stress and promoting physical and emotional wellbeing. | Classes are conducted in small, relaxed groups or as private classes for individual couples, for those who are busy or simply prefer a more personalised approach. Topics are discussed in a comfortable and friendly atmosphere, to help build confidence and knowledge, as you prepare for your birth and parenthood. | Massage is wonderful for babies and children of any age. Your baby's physical and emotional development can be enhanced by the enormous range of benefits. Caring touch through massage not only communicates love, but can also help create a serene and nurturing climate you will both enjoy. |