Infant Massage Classes on the Gold Coast
26 Ridgevale Drive, Helensvale 4212, on the Gold Coast.
As a Certified Infant Massage Instructor, I run infant massage classes for groups of parents (max. 4 only) or for individual parents.
Choose to do a 4 week group class or a private class, done over 2 weeks.
** Come and visit my brand new purpose-built clinic at Helensvale.
Becoming an Infant Massage Instructor was one of the most enjoyable experiences I have had and I love teaching parents about infant massage.
You can learn to massage your baby at any age. The course can be done when your baby is 2 - 6 weeks old, 2 - 6 months old or when your baby is much older. By learning to massage your baby, you will discover the joys and benefits of this rare and beautiful gift. Your baby's physical and emotional development can be enhanced by the enormous range of benefits which I have listed below.
Just as important is that massage is fun for you and your baby, provides a wonderful closeness and teaches your baby about loving, nurturing and appropriate touch. Caring touch through massage not only communicates love, but can also help create a serene and nurturing climate you will both enjoy.
As an experienced Midwife, Childbirth Educator and mother, my classes provide an opportunity to discuss issues related to your baby and motherhood, and are a wonderful way to meet other parents.
During the class, I will perform the massage on a doll, while you follow the steps with your baby. The classes are relaxed and paced to allow for nappy changing, feeding or settling your baby.


"I am certified as an Infant Massage Intructor with the Australian organisation Infant Massage Information Service. Please click on their logo to access their website, for great information about infant massage, including its amazing benefits."
---
Infant Massage Course Curriculum includes:
Benefits of infant massage

Appropriate oils to use

Recognising cues for massage time

Massage routine for the whole body

Contraindications for massage

Specific routine for colic, wind and constipation

Exercises for flexibility and to assist Lymphatic drainage.

Massage for older children and adolescents.
Benefits
Massage releases both oxytocin and endorphins and can assist in relieving discomfort from teething, chest or sinus congestion, colic, wind or constipation.

Relaxation and may help some infants sleep longer.

Enhances neurological development.

Teaches infants that touch is a form of expression and increases infant's body awareness and improves sensory awareness.

Enhances the bonding process.

Strengthens the immune system.

Increases circulation and oxygen and nutrient flow to the cells.

Helps encourage midline orientation, which assists with co-ordination and balance.

Is relaxing and fun for parents. Massage provides quality time with a working parent and is a great way for fathers to be involved.
Infant massage can also benefit children with special needs
Babies born prematurely, hypo or hyper-tonic infants

ASD, ADHD, Depression
Infant massage classes are available as small group classes (max. 4 parents) over 4 weeks OR Private sessions over 2 weeks.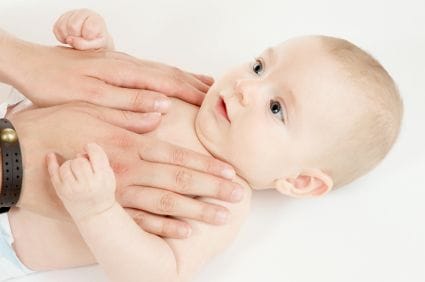 Book with a friend and you will both receive a free bottle of Infant Massage Oil (valued at $15).
Please see the other pages regarding class dates and fees, or contact Anne for any enquiries.
The course also makes a great gift for a new mother and baby.
Notes
Please bring a change mat and 2 towels

Oil will be provided during the class and parent manuals and oils will also be available for purchase.

Sesame oil will be used during the class. A small test patch can be done on your baby prior to the massage if you prefer, however if you have any concerns regarding the use of oils, please bring your own oil or lotion.